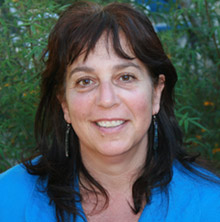 Lisa J. Bunin, PhD
Co-founder and Director, Organic Advocacy
Lisa Bunin is a change-maker and expert in organic agricultural policy. She envisions organic as an insurance policy that safeguards future generations' ability to harness the ecological resources necessary to meet their food needs. Through decades of environmental leadership she has demonstrated that enduring solutions depend upon creating and sustaining diverse networks. As a passionate eco-sleuth, she dissects the interconnections between social and environmental problems to understand their complexity and the actions needed for successful resolution. Her policy recommendations have shaped government decisions at international, national, and regional levels.
Prior to co-founding Organic Advocacy in 2016, Lisa joined Center for Food Safety (CFS), on a multi-year Switzer Environmental Leadership Fellowship. As Senior Organic Policy Director, her work focused on curbing the use of harmful food production technologies, promoting organic agriculture, and thwarting efforts to lower the bar for organic. She represented CFS in the National Organic Coalition for eight years, leading successful policy initiatives with other NGOs that eliminated antibiotics in organic apple and pear production, prevented allowing added sulfites in organic wine, and prohibited nanotechnology.
Lisa lived in Europe for five years and coordinated Greenpeace International's successful campaign to end the burning of toxic waste in ships at sea. As a public interest delegate to United Nation's (UN) London Dumping Convention, she collaborated with Nordic governments to draft a resolution that globally banned the technology in 1990. In her home town of Santa Cruz, California, Lisa was instrumental in securing a county-wide moratorium on the planting of genetically engineered crops as an appointed member of the Public Health Commission's Genetic Engineering Taskforce and co-editor of its investigative report.
For her doctorate in Environmental Sociology at the University of California, Santa Cruz, Lisa conducted a comparative field study of organic cotton production systems in India and California and analyzed their interconnections with emerging US and EU markets. She holds an M.S. in Environmental Sciences from SUNY Buffalo where she contributed to a study on the community impacts of the leaking toxic waste dump at Love Canal in Niagara Falls, New York.
Lisa is Treasurer of the Ecological Farming Association Board of Directors and its past President and Vice President, an Advisor to the National Organic Coalition, former Santa Cruz ACLU Board Member, a life-long photographer, and a regular blogger on organic-related issues.