Organic Strawberry Fields Forever:
From Start to Finish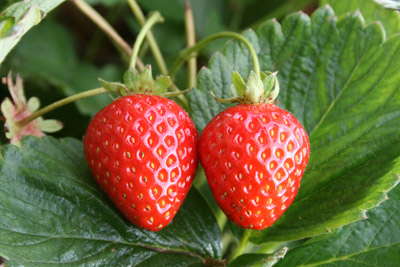 Organic agriculture is rightfully known as an important contributor to combatting a wide range of global human health and environmental problems. It protects our air, land and water by eliminating the most poisonous chemicals from agriculture and by using substantially less fossil fuel than conventional industrial agriculture. Organic practices mitigate the adverse effects of climate change by sequestering carbon, improving soil water-holding capacity, and regulating soil temperatures so crops can survive droughts, floods, and extreme temperatures. But, all aspects of organic systems are not perfect. That is why drafters of the Organic Foods Production Act (OFPA) allowed ample room for continuous improvements. An area still in need of improvement is the development of organic nursery planting stock (starts).
Organic Strawberry Industry Dilemma
Sought after as a tasty, healthy, nutrient-dense food, organic strawberries contribute to both environmental degradation and protection. That is because all commercial organic strawberry farmers grow their fruit from conventional starts. Even though their land and growing practices are certified organic, organic strawberry farmers must purchase conventional starts grown in soils that have been injected (fumigated) with highly toxic pesticides to kill pests – they have no other option. Until the launch of the Organic Strawberry Fields Forever Project, there were no commercial organic strawberry nurseries in the entire U.S. Organic Advocacy is leading the charge to stimulate the development of new organic nurseries and to assist the organic strawberry industry in transitioning to organic starts.
An estimated 80 million organic starts are needed to transform the entire organic strawberry industry in California once organic starts become the norm in California,1 ending the organic strawberry industry's contribution to the associated health, environment, and climate warming impacts.
No Organic Strawberry Transplants?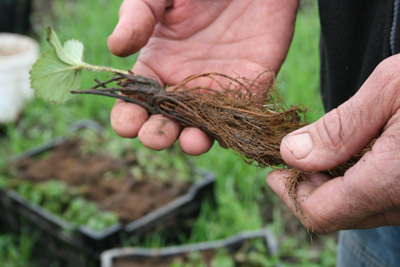 The lack of organic starts has put organic strawberry farmers in a difficult position of being forced to farm with conventional starts. USDA's National Organic Program has allowed this practice to continue, virtually unchecked, under the organic regulation's "commercial availability" clause. The clause was intended to facilitate organic starts and seeds development, but that has not happened in the organic strawberry sector. Since regulations do not mandate a deadline for eliminating conventional starts, no market pressure or incentives exist to stimulate organic production. In fact, for over 28 years since the passage of OFPA, organic strawberry farmers have used conventional starts – because they have no other choice!
Methyl Bromide and Organic Strawberries?
Fumigating soils to combat pathogens, insects, and weeds with methyl bromide (MeBr) and the chemical warfare agent, chloropicrin, became the standard strawberry nursery practice in the 1950s. But their use carried a high social cost. MeBr gas has 5 times the global warming potential of carbon dioxide. Its release from farms has caused 5-10% of world's ozone depletion,2 increased UV radiation and elevated skin cancers. This motivated countries to ban it by 2005, under the Montreal Protocol. U.S. strawberry nurseries, however, received "critical use exemptions" to continue MeBr fumigation until 2017. No environmentally sound chemical substitutes have emerged. Chloropicrin (a vomit gas used during World War I and II) and Telone are the most widely used fumigants now. Both are banned in the EU due to their extreme toxicity. Exposure to those fumigants can severely burn the skin and eyes and damage the lungs, kidney, liver, brain and nervous system of workers, bystanders and wildlife.
Organic Strawberry Fields Forever – A Game-Changer
When California's Department of Pesticide Regulation (DPR) withdrew their proposed chemical substitute for MeBr, methyl iodide, because they found it was four times more acutely toxic, Dr. Lisa J. Bunin approached pioneer organic strawberry farmers to help forge a solution. Under the auspices of the Organic Strawberry Fields Forever Project (OSFF), in 2013 she convened an Organic Strawberry Summit of organic farmers, researchers, government regulators and NGOs to discuss the imperative of ending the organic strawberry industry's contribution to the use of MeBr and other toxic soil fumigants. Strategizing at subsequent meetings led to jump-starting organic strawberry nursery production and the founding of Innovative Organic Nursery, LLC (ION) in 2016.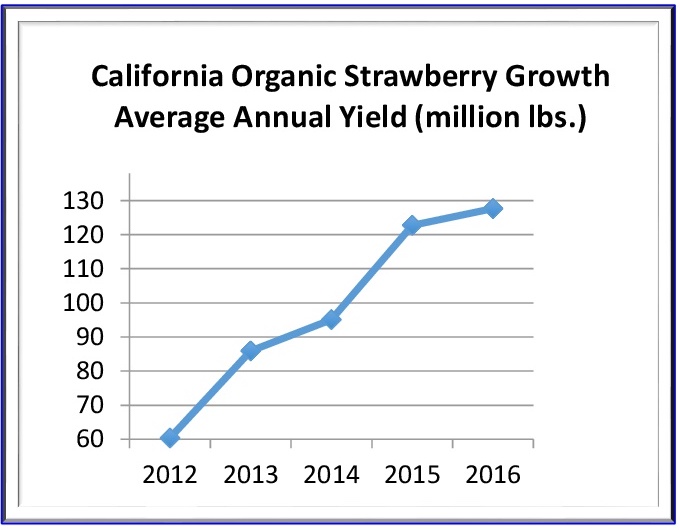 ION produced 775,000 public and private varieties of organic starts for the 2018/19 growing season. Field trials of the starts are being conducted at organic farms in Santa Cruz, San Mateo and Monterey counties. Organic Advocacy is coordinating the project and Farm Fuel, Inc. is collecting and analyzing the data, supported by a grant from the Organic Farming Research Foundation (OFRF).
Crediting OSFF for leading the switch to organic starts, Driscoll's, the world's largest organic strawberry company, announced that it will use only organic starts by 2020. While beneficial for human health and the environment, this move does not help independent and family farmers who cannot purchase the proprietary varieties. OSFF is filling this gap by pursuing the development of public starts for all growers.
Growth Market with an Impact
California's organic strawberry farmers produce 142 million pounds of berries annually,3 adding $93.6 million to the state's economy.4 Their farm fields occupy 4,170 acres — which more than doubled in the past 5 years — representing 13.1% of California's total strawberry acreage.5 Expanding production of public varieties of organic strawberry starts presents a tremendous, unmet market opportunity that is essential for transforming the industry, nationwide.
The goal of this farmer-led project is to transition California's organic strawberry industry away from using conventionally grown, chemical-intensive starts to exclusively using organic starts.
Game Plan:
Facilitate the development of public varieties of organic strawberry starts at nurseries at multiple locations.
Coordinate field trial data collection and analysis, farm tours and widespread publication of results.
Inform consumers about the positive changes underway in organic strawberry production.
Outreach to organic strawberry farmers to enlist them to grow organic starts and help transition the industry!
Given the continued and rapid growth of the organic strawberry industry, OSFF's success will make a positive and measurable environmental and health impact by reducing the use and release of ozone-depleting, toxic, soil fumigants.
Funded By:
CCOF Central Coast Chapter
Center for Food Safety
Organic Farming Reseach Foundation
Straus Family Creamery