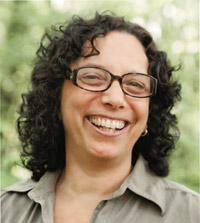 Liana Hoodes, BA
Co-founder and Director, Organic Advocacy
As a skilled grassroots organizer and national networker, Liana Hoodes knows that building consensus leads to equitable and long-lasting change. She possesses a rich, thirty-year history of bringing together diverse voices to identify common problems and work out solutions. Her passions are helping farmers innovate, pushing the envelope to improve organic agriculture, and advancing forward-thinking organic policies. Liana relishes in founding and leading initiatives that facilitate environmental and social change.
As founding Executive Director of the National Organic Coalition (NOC), a Washington, D.C.-focused policy advocacy organization, Liana led the pursuit of a robust policy agenda to advance organic as the foundation for US food and agriculture. Under her direction, the coalition gained considerable influence in Congress and USDA in its promotion of a strong National Organic Program and high-integrity standards to keep family farmers economically viable in the marketplace.
Liana left NOC in 2015 to advance organic agriculture locally and regionally and to participate in innovative projects with Organic Advocacy. She advises NOC and the Northeast Organic Farming Association of New York (NOFANY) on federal and state organic policy-related issues and facilitates New York farmers' participation in regional and statewide programs.
Liana's agriculture advocacy work emanated from her work with the National Campaign for Sustainable Agriculture (NCSA) – a national, grassroots network that promotes healthy, environmentally sound, profitable, humane, and just agricultural systems. As NCSA's Organic Committee coordinator, she helped unite organizations and communities in actions across the country to contest USDA's first proposed organic regulations. This organizing work helped inspire hundreds of thousands of people to submit public comments forcing USDA to revamp the regulations so that they now prohibit the "Big 3" – genetic engineering, irradiation and sewage sludge.
In 2004, Liana co-launched a six-year collaborative project to develop the National Organic Action Plan (NOAP). She traversed the country soliciting input from farmers, eaters, activists and the organic industry about their visions for the future of organic food and agriculture. This culminated in the publication: National Organic Action Plan – From the Margins to the Mainstream: Advancing Organic Agriculture in the US which has been widely distributed in USDA, Congress, and in communities, nationwide.
Liana actively participates in public service committees in Hudson Valley, New York, including zoning, open space and farmland protection committees and Environmental Management Councils. She was founding director of Orange Environment, Inc., a regional environmental advocacy, education, and research organization.
Liana co-chairs the NOFANY Management Committee, which oversees organic certification, and founded and coordinates the Pine Bush, NY, farmers market. She raised her children on food she grew on her farm in Shawangunk, New York, where she has lived for over 30 years.